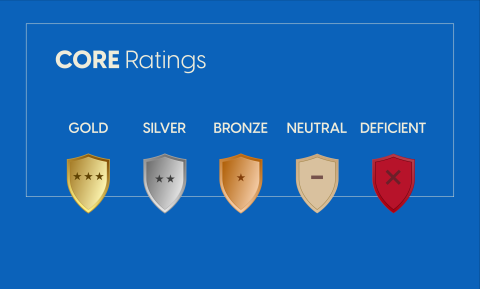 Gold:
These top-rated assets exemplify exceptional performance and showcase significant advantages across all 10 CORE categories, indicating low risk and instilling the utmost confidence in our analysts.
Silver:
As the second highest-rated assets, they possess advantages across many, though not all, of the 10 CORE Categories. With moderate risk, our analysts maintain a high level of confidence in them.
Bronze:
The third highest-rated assets, they demonstrate advantages that outweigh the disadvantages across the 10 Categories. Despite being considered high risk, our analysts possess a sufficient level of confidence in their potential.
Neutral:
Assets that score below average on the 10 CORE Categories, without any evident deficiencies or notable strengths. While they may not exhibit remarkable advantages, they also do not possess any glaring shortcomings. 
Deficient:
Assets that are flagged when at least one major issue is identified in the 10 CORE Categories, significantly outweighing any potential benefits. These assets possess notable drawbacks or deficiencies.
Join Premium for a simplified risk assessment: 
The CORE rating system simplifies the decision-making process by providing a clear evaluation of the risk associated with each digital asset. Our comprehensive analysis across 10 CORE Categories allows you to quickly gauge the risk level of an asset, from the top-rated assets in the Gold category with low risk to the flagged assets in the Deficient category with notable drawbacks. Subscribing to our premium membership ensures you have access to all CORE Ratings, enabling you to streamline your investment decisions and focus on assets that align with your risk tolerance and investment goals.
Join Premium