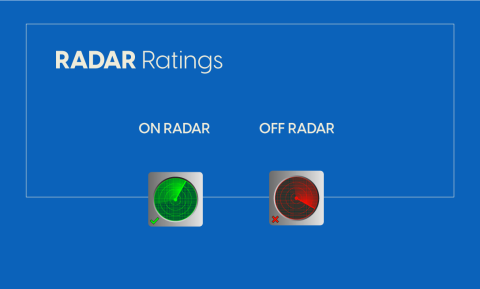 Ratings that shine a light
The RADAR rating system is designed to assess and categorize digital asset projects based on their potential and importance within the cryptocurrency industry. This rating system helps investors, institutions, developers, and the general crypto community identify projects that are worth keeping an eye on. The two main categories in the RADAR rating system are "ON RADAR" and "OFF RADAR."
ON RADAR: 
These are projects that have caught our attention and are considered noteworthy within the cryptocurrency industry. They exhibit promising characteristics, such as innovative technology, strong fundamentals, compelling use cases, or experienced teams. Being "ON RADAR" means that we believe these projects have the potential to make a significant impact and/or achieve success in the industry.
OFF RADAR: 
Projects that are categorized as "OFF RADAR" are currently not within our primary focus and are not considered as high-priority projects. This category doesn't necessarily imply that these projects lack potential or value. However, they may have certain limitations or characteristics that make them less appealing or relevant in the current market landscape
Join Premium
By providing a clear "ON RADAR" or "OFF RADAR" rating, we aim to assist investors and industry professionals in identifying projects that have captured our attention and are worth considering for further research and analysis. Get access to all RADAR Reports and Rating with a Premium Membership. 
Join Premium